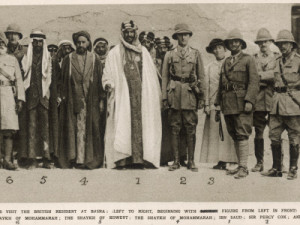 "Al-Qaeda affiliates are significantly expanding their footholds in Syria and Yemen, using the chaos of civil wars to acquire territory and increase their influence, according to analysts, residents and intelligence officials. The gains have helped the terror group's affiliates become major players in the countries and have complicated efforts to resolve the conflicts. Al-Qaeda offshoots could also be gaining sanctuaries to eventually plan attacks against the United States and Europe, analysts say. In Syria, al-Qaeda's wing, Jabhat al-Nusra, plays a leading role in a new rebel coalition that has captured key areas in the northwestern part of the country. In Yemen, al-Qaeda in the Arabian Peninsula (AQAP) has seized parts of the country's largest province, territory that includes military bases, an airfield and ports. "Al-Qaeda is becoming more deeply entrenched in Syria, and it is gaining significant momentum in Yemen………….."
A known Salafi activist on the Persian Gulf tweeted the other day, wishing, urging Al Nusra Front to break its allegiance to Al Qaeda. For years that same Salafi activist was urging Osama Bin Laden and Al Qaeda to make their peace with his Saudi masters, the princes and their Muftis. Other Gulf Salafis who openly supported Al Qaeda and its affiliates, especially AQI and ISIS among other terrorist groups, have shifted away from the latter. At least in the open, but it could be just the usual Salafi taqiyya, feigning and faking.
Al Nusra is not as successful as the Caliphate of ISIS, but Al Nusra has one important advantage for the opportunistic Salafis. It is now being supported by their patrons, the Wahhabi princes and potentates of Saudi Arabia and Qatar (and non-Arab Turkey). It is being armed and financed by all of them. The Salafis, especially in the Persian Gulf countries listen to the dictates of these neighboring potentates, their patrons. Besides, it is the American support and weapons that they covet, which explains the phony claim of leader of Jaish Al-Islam (Army of Islam) a couple of weeks ago that he is now almost a Jeffersonian democrat.
It is as if a new global International, a Wahhabi International emerging, taking its signals and orders from the clerics and moneybags of Riyadh and Doha. Just like the Communist International of yesteryear (Comintern), the Wahhabi one is now divided. At least two major rival branches, possibly more if Al Nusra can be bribed to split from Al Qaeda. Not to mention other affiliated groups of Salafi cutthroats: AQAP (Al Qaeda in the Arabian Peninsula), the Shabab, Boko Haram, the Bel-Mukhtar Group of Northwest Africa, etc, etc.
There have been reports in recent months that the Saudis are trying to affect a shift in loyalties. Saudi warplanes raining cluster bombs on Yemen tend to attack Houthi and Yemeni army forces in areas where they fight AQAP. That they do not attack gatherings of AQAP terrorists. American drones are still allegedly attacking AQAP. As usual, the Saudis believe they can in the end buy and regain the loyalty of AQAP and possibly the Southern Independence movement around Aden.
Cheers
Mohammed Haider Ghuloum                          


[email protected]