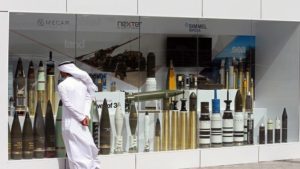 Arab kids in IDEX candy store…
"The world's largest military fair is wrapping up in the United Arab Emirates. The IDEX exhibition attracts mainly African, Arab and Asian officials who are shopping for weapons. For defence companies at the fair, it's a highly lucrative market. Never since the end of the Cold War have countries spent so much on defence, with deals worth a total of 100 billion dollars signed worldwide last year. Our correspondents report from Abu Dhabi……."
They call it IDEX (the International Defense Exhibition), but much of it is not defensive. It is a new form of Newspeak. Most of those Arabs who buy the weapons have not been attacked by anyone in recent history, at least not in a quarter century. Those few who have been directly attacked were attacked by other Arab regimes (let's leave Israel out of the equation here: these weapons are aimed at other Muslim/Arab states). Many of the rich Arab buyers are actively involved in wars in other poorer Arab countries. Some of these oligarchies are also stockpiling weapons to help repress their own people's aspirations. Western weapons bought by Arabs from foreign "friends" to kill other Arabs.
Sometimes the local potentates get "commissions" from weapons deals (an important consideration). In some cases the weapons purchases are used to exert political influence on the exporting Western governments (British governments have been easy targets for such blackmail, and occasionally the French as well).

As Donald Trump would say or tweet (but he won't in this case): Sad! So Sad! …….While he runs to the bank.
According to SIPRI data:
Saudi Arabia 's share was second largest world weapons importer: 7% of total international arms imports in 2011-2015 (compared to 2.1% in 2006-2010). The United Arab Emirates (UAE) share was fourth largest weapons importer: 4.6% in 2011-2015 (compared to 3.9% in 2006-2010). Each imported more than much bigger countries. But then one of these two Arab states (Saudi Arabia) has been engaged in indirect wars in Syria and Iraq and both are engaged directly in Yemen (active air and land war against local Yemeni forces). Saudis were the largest importers of total American arms exports (9.7% in 2011-2015), while the UAE were the second largest (9.1%).

Some of these Arab-bought weapons find their way into the killing fields of Syria, Iraq, and Yemen. Possibly other places as well. In an era when revenues are declining and poverty expands even in petroleum-producing countries. Helping Make Arabia Great Again.

Cheers
M. Haider Ghuloum