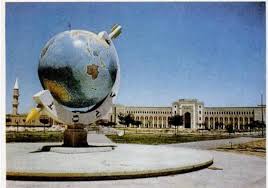 Events during the past two decades have shown the limitations of Western military power in shifting the trajectory of history in the Middle East and the regions around it. Yet it apparently takes time to understand that lesson. Then it takes time to develop a consensus on that understanding and to act on it.
Much of today's news headlines are dominated by the same topics of a quarter century ago. War or new war or threat of war in Iraq, Afghanistan, Yemen, Libya, Persian Gulf. Now Syria and Lebanon  can be added to the mix. Looking back at the old headline, some are almost the same these days: 
Last Days of the Taliban, 2001. Read a cover of Time Magazine in 2001. It was a reasonable conclusion at the time. The abhorrent Taliban had lost power and were on the run. Al Qaeda was pushed toward the Pakistani border, then across the border into the bosom of its barely-deniable allies.
Mission Accomplished in Iraq, 2003 (I believed that at the time).
Yemen and Sana'a will fall to Saudi bombings in two weeks, 2015. Yemen did not fall, and it looks like the war has turned decisively against the Saudi (alliance). They are suing for an easy peace, except that there is no easy peace for the loser of a conflict. There never is. Especially if the loser is the original aggressor.
For decades the mantra has been that Iran and her ruling ayatollahs will collapse under the tough sanctions backed by the vocal threats of "all options are on the table" under Clinton, Bush, Obama. Except that "all options" were not really on the table, nor are they now. That was just political cover.
Then along came Trump, willing to rent out US foreign policy for billions of petrodollars. Trump's maximum pressure failed, and its major byproduct was that Iran's nuclear program is now the closest it has been to a bomb capability. Certainly sufficient enriched uranium is all that stands between them and a nuclear device now. Trump can be called the Father of the Iranian Nuclear Bomb, if it comes to that. And how do you denuclearize the scientific and military nuclear knowledge and the skills Iranians have acquired? Now Biden has inherited Trump's failed maximum pressure siege. Some are advising him to adopt it as his own, and he seems reluctant to give it up.
Lebanon, historically dominated by a quasi-feudal elite still trying to cling to vestiges of power. Allied to Western powers and a few ruling Arab potentates. Now under financial/economic siege from the West and some Persian Gulf rulers focused on forcing political change in favor of the same elites. Expected to fall to war at some point like the rest did?
And that beat goes on.
Cheers
M Haider Ghuloum