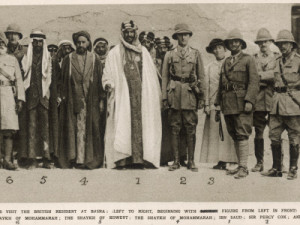 Since the creation of the modern Saudi state some hundred years ago there have been three constants. These three constants have defined the country that the ruling family arrogantly renamed after themselves. They called it the Kingdom of Saudi Arabia.
The three constants have been: (1) Wahhabism; (2) Absolute family rule and the subsequent kleptocracy; (3) Goateed kings and princes, from Abdulaziz through kings Saud, Faisal, Khaled, Fahd, Abdullah, and Salman, including several crown princes like Sultan and Nayef. The first two have been widely exported with plenty of Saudi money. Wahhabism now covers a vast area from Indonesia to Morocco, including AQAp and ISIS. It has noticeable influence in major European cities. This last expansion into Europe has led to the phenomenon of Islamophobia.
The last constant, the goatee beard (saksooka), did not take much hold outside the Arabian Peninsula. There are a few exceptions, for example Saad Hariri in Lebanon but he is the Saudi man in that country and sporting a goatee is like raising the Saudi flag. There might be one or two others in Lebanon with goatee beard, but I have not seen them nor heard of them. Inside Arabia, the goatee has ruled. Any prince worth his salt who aspired to reach the top of the hierarchy had to sport a goatee, preferably dyed jet black (Kiwi brand). Any minion who aspired to rise in the bureaucracy had to do the same.
Now King Salman has started his rule with a new face, literally. He has appointed a crown prince with no goatee beard, a first. He has appointed his son as deputy crown prince, also without a goatee, but with an Emirati style trimmed beard. It is worth noting that the crown prince apparently has no male heirs, comforting thought for his deputy.
That is the new future of the Arabian Peninsula, so long as the Al Saud rule it. That is the new face of Saudi reform, literally, and almost certainly the extent of it. No more goatee………….
(P.S: Now if they can get rid of the moustache, then they might have a slew of kings and princes who are as hairless as Francois Hollande or David Cameron or Angela Merkel).
Cheers
Mohammed Haider Ghuloum                          


[email protected]