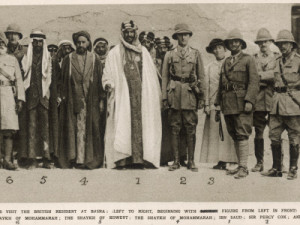 "A fatwa from a Qatari-owned online portal has been widely circulated by Egyptian press this week after it called for the destruction of pharanoic(sic) monuments on the grounds that they are contrary to Islam. The religious edict, issued by Islam Web, was picked up by several independent Egyptian news outlets…….But Egyptian newspapers carrying the story failed to notice the fatwa was first issued in December 2012………….."
Saudi Alarabiya network is relishing this item about a Qatari fatwa against (Egyptian) monuments (the fatwa goes back to 2012 but Cairo's subservient press has revived it recently). This indicates that the famous Saudi-Qatari dispute, the Wahhabi civil war, is on again. 
Speaking of destroying monuments, it seems to be a typical Wahhabi/Salafi thing to do. Saudi Arabia has been systematically destroying Islamic monuments over the years. In Mecca and Madinah homes of the Prophet and his early allies were razed and converted to luxury hotels, shopping malls, parking lots. On this case it is a mix of financial greed and Wahhabi doctrine. A few months ago they sent out a trial balloon about erasing, essentially desecrating, the grave of the Prophet Mohammed in Madinah.
The Taliban famously destroyed ancient Bamiyan monuments in Afghanistan. ISIS is destroying museum pieces in Mosul and monuments in other towns in Iraq (and Syria). In Syria Salafis among the 'opposition' destroyed shrines, threatened others, and destroyed Christian churches and old Crusader castles. They had threatened to destroy Shi'a shrines, which prompted Lebanese and Iraqi Shi'as to send armed militias to guard them. This led to their further involvement in the Syrian conflict.
Even in historically tolerant Egypt the Salafis have threatened to destroy ancient Islamic monuments, including some from the Fatimid era. Oddly they have left the Pharaonic monument alone, knowing it would be extremely unpopular to destroy major Western tourist attractions.
Cheers
Mohammed Haider Ghuloum                          


[email protected]