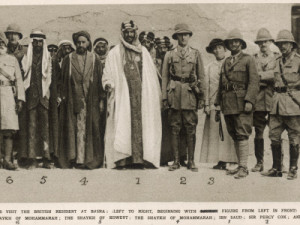 Almost everybody who is anybody is involved in Syria now. Plus a few nobodies. The Western powers have been 'in' Syria since long before they started their tepid bombing of the terrorists of ISIS (DAESH, ISIL). Some Republican senators have also crossed the Turkish border into Syria for photo-ops, Western trained fighters have crossed from Turkey and Jordan, before handing their weapons to ISIS or Jabhat Al Nusra (I called them Jabhat Al Qaeda three years ago) and defecting to one or another Wahhabi Jihadist groups. Now we also have Jaish Al-Fath, whose name translates correctly into Army of Islamic Conquest, which some Westerners seem to pin their dwindling Syrian hopes on. A poisonous straw to cling to.
The Arab oil potentates of course entered Syria from the beginning in 2011, with money, weapons, and Wahhabi jihadists from the Persian Gulf states and now from across the globe. That is how the early Syrian protests were quickly taken over by the Islamist jihadists. The West commenced its own bombing campaign after the fall of Mosul and other towns in Iraq and the consequent piling up of mass sectarian and religious atrocities in Iraq and Syria.
But the Western bombing campaign has been "measured", a polite way of saying it was half-assed (which is how I would describe it if I were rude and crude, which I'm not). It is seemingly aimed only at preventing the expansion of ISIS (DAESH), perhaps rolling it back in Iraq. But the goal in Syria seems to be to keep the status quo: for if ISIS is pushed back in Syria, only Assad and his foreign allies would gain. Or, worse, the Al Qaeda allies and offshoots among the various Jaish Al or Jabhat Al or Ansar Al. Keeping the status quo in a civil war and in a multi-faceted international proxy war is nearly impossible. Hence the tepid air campaign that failed to alter the situation on the ground in Syria. Until a few days ago, when Russia decided to upend this strategy which Mr. Putin probably sees as either wimpy or sly.
Now Gospodin Tovarish Putin has decided to join everybody else and also interfere into the Syrian War, but in his case more decisively and with some authority. He has the luxury of knowing who he supports and who he opposes. He wants to defeat the Syrian opposition, most of whom are genocidal Jihadists with many Russian Chechens among them. He wants a victory for the Assad regime and its allies, if he can get one.

Unlike the Western powers, his campaign is straightforward and focused because it does not seek to mollify rich Arab allies, oligarchs whom he needs to mollify with an indecisive and week air campaign. And unlike Mr. Obama, Mr. Putin has a tame Doma (house or parliament) that does not pounce on every move he makes.
Cheers
Mohammed Haider Ghuloum