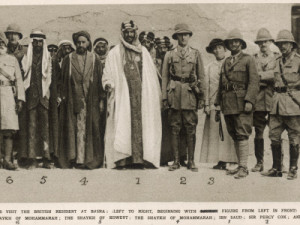 This week is the 35th commemorative of a watershed event that is still shaping the Middle East. Baathist Iraq under Saddam Hussein, worried about the message of the new Khomeini revolution, saw an opportunity and invaded Iran, which was weakened by continued revolutionary turmoil and internal divisions. That war did not turn out as expected, and its consequences are still unfolding in our region:
Saddam Hussein started the Iran-Iraq war this week in 1980. That war lasted eight years (1980-1988) and split the Arab world into those who supported the Baathist invasion (mainly some in the Gulf region) and those who opposed it (mainly Syria, Libya, Algeria, and some Palestinian groups).

That war did not achieve any of the declared goals set by Saddam, but it led to the bankruptcy of Iraq. I opined at an event at KISR after the war that Iraq went from a healthy supply of foreign exchange reserves before the war to a total net foreign debt that well exceeded US $100 billion (for obvious reasons I don't have my exact original estimates now).

Which led a desperate Saddam to invade Kuwait in 1990 in order to plunder its wealth. That invasion led to what Americans call the "Persian Gulf War" of 1990/91. The Baathists were defeated and blockaded and kept within Iraq.


After the September 11 Wahhabi terrorist attacks in the USA, the Bush-ies refocused on Iraq (although not a single Iraqi was involved in that mainly-Saudi attack). It was followed by the American-led invasion of Iraq in 2003. Later the results of the first Iraqi elections created a worsening of the sectarian tensions in the Arab world. Al Qaeda and the Wahhabi terrorists entered into Iraq in force, backed by outside Arab financing.

Eventually, as the Arab uprisings of the Spring of 2011 spread eastward toward the Gulf, a local Iraqi branch of Al Qaeda morphed into ISIS (ISIL, DAESH), an alliance dominated by foreign Arab Salafi Jihadis and former Baathist henchmen of Saddam.

The intervention of foreign Arabs, including some regimes, and the growth of local militias of both Muslim sects, have had a lot to do with the bloody sectarian turn of events across the region.

ISIS or DAESH now controls large parts of Iraq and Syria, mostly through sectarian exhortation and a medieval-style bloody reign of terror. It has been largely supported by the flow of foreign money and weapons facilitated through Turkey.


Some of those Arab potentates who helped create ISIS or DAESH are now feeling the heat and claiming to be fighting to destroy it. But apparently not seriously enough, NOT in Syria or Iraq.

The consequences of that fateful decision of September 1980 are still unfolding across the region. The beat goes on………..
Cheers
Mohammed Haider Ghuloum