"Saudi Arabia's king will visit Washington in early 2018, according to a White House readout on the monarch's latest call with Donald Trump.The three-sentence statement did not elaborate on the substance of the US president's conversation with King Salman bin Abdulaziz, other than to note the two leaders discussed "ways to continue advancing shared priorities, including enhancing security and prosperity in the Middle East". However, it did state that the Saudi monarch had agreed to visit the White House "in early 2018″……."
My very own global correspondent has added: Saudi King Salman will visit Trump early next year, if he is still king of Saudi Arabia. Otherwise the new king, so far slated to be his favorite son Mohammed Bin Salman (affectionately called MBS in the palace), will do the visit. The timing of the Washington pilgrimage/Hajj in that case will depend on if and when the new king replaces his father on the throne.
It almost like a race: whether the royal visit precedes or follows the new king taking the throne. Some Saudi exiles who claim to know are betting that King Salman will not be king for long: some give him weeks, others give him only a few days from now.
My global correspondent also is not certain if the Saudi King will try to create a certain magic of the Riyadh Summit last May. That would require that he bring along a certain magical white ball (globe), and perhaps Generalissimo Sisi of Egypt as well, as per this following photo and my appropriate comments at the time—>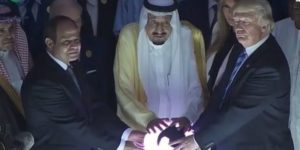 No, not this one below, this was just an irreverent Scandinavian mockery of some serious global Arabian/American magic of the May summit—>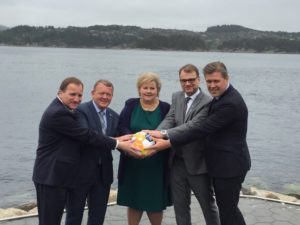 It is also not clear whether the king will ask for a complete recreation of the magic of the Riyadh Summit in May. Complete with the Guru Stephen Bannon, Herr Doctor Sebastian Gorka (PhD), the all-male Arabian exotic sword dancers, and the other more fetching accoutrements.

Cheers
Mohammed Haider Ghuloum