During the Saudi-American Summit in Riyadh, President Trump, King Salman, and Generalissimo Sisi had some fun playing with their ball, or rather with one of their balls. Okay, playing with someone's mysterious ball.

It was an eerie fluorescent white ball, made eerier by the three grown men fondling it for benefit of the cameras. I assume it was a Saudi ball, some Saudi's ball, since it as hosted in Riyadh. Unless it was Trump's, that he had donated one of his balls for that occasion of sorcery and witchcraft and magic.
Sorcery, witchcraft, and magic are activities that are punishable with death by beheading in Saudi Arabia. But anyone can play with their own ball as much as they want, apparently they can also play with someone else's ball, provided it is done with consent.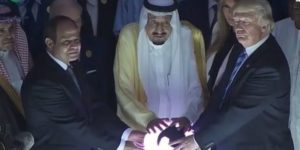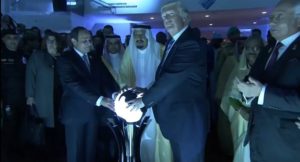 That photo elicited reactions from all over the world. But some European reaction was the most succinct. The leaders of the five Nordic countries, decided to do their own show of sorcery, magic, and witchcraft. The leaders of Denmark, Sweden, Norway, Finland, and Iceland chose a better and more open setting, near some body of water, rather than in a dark room full of Wahhabi zealots. And they chose a colorful ball. Not sure whose ball it was, but could be any among the five leaders. Any four among the participating leaders.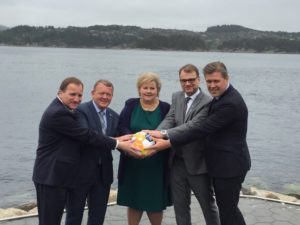 And the Scandinavians looked more cheerful about it: the ball looks, shall we say, livelier. The Trump-Salman-Sisi ball-fondling looked like a grim affair, as expected. In spite of the dimmed lights.

In case you were interested…..
Cheers
Mohammed Haider Ghuloum