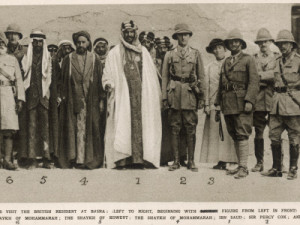 ا
Here is a summary of what Middle East media seem to focus on in recent days (besides ISIS cutthroats and daily terrorism):
Saudi media and its reporters and columnists always write and say: (1) how bad and dangerous Iranian policy is; (2) how wise are the policies of the Saudi King and his son and crown prince; (3) how they seek to liberate Syria, Yemen, and Iraq for freedom, democracy, and the American Way of Life; (4) how the whole world is grateful for the polygamous wisdom of the princes.
Iranian media much of the time report: (1) how bad and dangerous are Saudi policies; (2) how wise are the policies of Iran; (3) how the West and Zionists (not the Wahhabis) have created the sectarianism that plagues the Middle East. How otherwise all Muslims would live in peace and harmony, how all the kings, princes, dictators, and mullahs can get along if left alone. (4) They also report a lot (like every week) about their most recent domestic weapons development that they claim can match anything the West sells their neighbors across the Persian Gulf.
Qatari media and their reporters try to be subtle, unsuccessfully. They mostly report on how wise Qatari policies are. They only hint at how dangerous Iranian policies are and how stupid Saudi policies and their surrogates are.
UAE media and their reporters mostly focus on: (1) how dangerous the Muslim Brotherhood are, (2) how wise the Abu Dhabi ruling brothers are, and (3) how they should control the Strait of Hormuz (no doubt through their mercenary forces hired from Colombia and Australia).
Egyptian media now focus on blasting anyone who questions president Al Sisi. Occasionally they warn of Muslim Brotherhood "terrorism", and repeat Al Azhar warnings that Shi'as might be spreading their ideology in the heart of Cairo.
Israeli English media are obsessed with Palestinians (naturally), Hezbollah, and are now paying attention to ISIS. They seem to be disengaging a bit now from Iran. They are also somewhat typically Middle Eastern and Arab in their ethnic focus: they seems obsessed with which Hollywood Oscar celebrity or Nobel Prize winner is Jewish (there are so many that it shouldn't be news anymore). They also seem to have forgotten what a pre-Likud era was like.
In Turkey, the pro-regime media are obsessed with real or imagined insults to "national pride", WTF that be, and with persistent Armenian ghosts, and how the Russians (and maybe the Iranians and Lebanese) messed up their plans for the liberation and Islamization of Syria.
Lebanese media are concerned with who will become a figurehead president, and now increasingly with the threat of Jihadi terrorism. They also always seem concerned with which country can make the largest platter of hummus or Kenafa. And also with Amal Clooney's latest attire.
Alles klar?
Cheers
Mohammed Haider Ghuloum