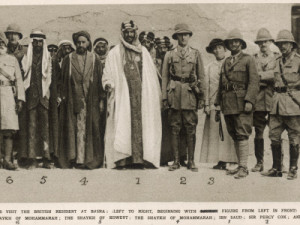 "He's best known for bankrolling Republicans Rick Santorum and Scott Walker afloat, but Foster Friess has a new cause a long way from D.C. Republican megadonor Foster Friess is shifting his sights from political campaigns to a military campaign: to fight ISIS and save Kurdish lives. Behind the scenes, the conservative Christian has been traveling to the Middle East to support the vulnerable Kurdish minority in Iraq, and then coming back to the U.S. to lobby for arming and training their militias, known as the Peshmerga. These forces are on the front lines of the war with ISIS……………"
Media and many politicians here (in the USA) have barely lost the afterglow of their Washington orgy with Benyamin Netanyahu. Now it is back to business: now they profess to be terribly worried about Iraq again. No, not worried about ISIS controlling so much territory. Not about the continued terrorist suicide bombings against civilians that kill and maim every day. They are not worried about 'the war' itself or about the people of Iraq (or Syria).
They are worried about the reported Iranian help to Iraqis against ISIS, specifically around Tikrit. Even as Western boots are on the ground, many more of them than we know. Even as Arab Wahhabi air forces fly over Iraq and Syria, bombing ISIS. Even as Wahhabi Arabs start hosting training facilities for more Wahhabi rebels in Syria. Even as jingoists like John McCain and other Likudniks in Washington call for even more robust American intervention, like an effective invasion of Syria.
And where do they get their ideas that the 'region is seething' at Iranian 'intervention' in Iraq? Not from the real masses of Arabs that stretch all the way to the Atlantic Ocean. No, from the very same Wahhabi Arab potentates who created Al-Qaeda and ISIS and from where Arab money and volunteers still flow through Turkey, and from the former Baathists in Iraq. They get them from princes and potentates of what Field Marshal Generalissimo Al Sisi, their own creation, called 'half-states'.
The terrorists of ISIS and others have always claimed that Western intervention is a continuation of the Crusades. That is not true, not completely, not on the policy-making level. Now they can point out to this rich Christian-Salafi man and possibly others as proof that the West has no respect for Muslims even as it claims to free them from Jihadist terror. People like him should stay away, they only serve the propaganda of the Caliphate. The politicians that he owns should also stay away: they don't know Middle East issues from the proverbial hole in the ground.
What next? Owner of the Republican Party Sheldon Adelson will start his own militia to liberate Arabs and Muslims? He can start on the West Bank………….
Cheers
Mohammed Haider Ghuloum                          


[email protected]