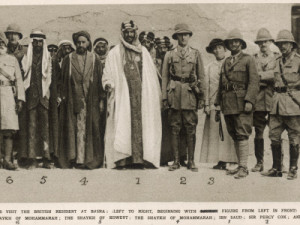 King Salman of Saudi Arabia has been on a long state visit to Egypt. The visit started with Egyptian authorities covering a public statue of Ibrahim Pasha, son of the creator of modern Egypt Mohammed Ali Pasha, during the Saudi King's visit to Cairo. Ibrahim Pasha conquered Najd, birthplace of Wahhabism early in the 19th century. That was probably the last Egyptian military victory of modern times.
Saudi media and diplomats have hinted at a "pleasant" surprise gift from the Saudi King for the Egyptian people. That is rather doubtful: Arab leaders (or Middle East leaders in general) never have pleasant surprises for the people of another Arab state, nor for their own people. It is certain that the visit itself is no gift.
But we can speculate. President Al Sisi was recorded last year as suggesting to his advisers that Persian Gulf states have so much money, that it is like rice (unlimited numerous grains of rice). So, there might be 'some' more Saudi rice for the collapsing economy of Egypt. But the Saudis don't have as much "rice" as they used to: their own reckless oil policies have contributed to the crash of crude prices in the past two years. The kings, potentates, and princes of the Gulf are cutting back on spending on their own people (but not on themselves or their merchant-class political and business allies). They are highly unlikely to be more generous with Egypt.
There is another option, but the Saudis have managed to make it a not-so-credible option, almost comic. After the Arab uprisings of 2011 started, then Saudi king Abdullah surprisingly invited far-away Morocco and humorless Jordan to join the GCC. Neither country is on the Gulf, and neither is as well financially as the GCC states. But both are monarchies, but much more democratic than the Gulf states. I commented at the time that it will never happen, and I was right.
Now, with the money limited, the Saudi King can invite Egypt to join the GCC: the first military-ruled republic to get this dubious honor. That may force the Egyptians to become more active in the Saudi military endeavors and adventures, in the Persian Gulf and elsewhere. That may be the Saudi hope. But Egyptians are unlikely to accept the role of second-fiddle, or even deep involvement far from hom. A country with a civilization of 6 thousand years, albeit now poor and misruled, is unlikely yo take orders from some tribal backwater like Riyadh or Abu Dhabi.
Egypt can't be Number Two in any Arab endeavor. We all know the Arab world is full of ruling Number Two's already, if you get my meaning.
Cheers
Mohammed Haider Ghuloum