"And the beat goes on……
This time I'll keep my feet on solid ground
Now I understand myself when I'm down
Like the sweet sound of hip music
There'll always be something new
To keep the tables turning
Hey, this super song
There'll never be an ending…
And the beat goes on……"    The Whispers
"Betting Against Trump Was a Market-Beater. The companies the president disparaged have done much better than those he favored. Remember when President Donald Trump would call out a company by name, causing its stock price to gyrate madly, whacking a few billions off its market value with just one offhanded tweet? ……. Looking back on this one year later is revealing. From the November 2016 election until when we looked at it January 2017, the Oligarch Index was thoroughly trouncing the Drain the Swamp Index, 15.8 percent to 3.5 percent. Trump hadn't even been sworn in, yet he was already making his heft felt in the marketplace. Things change……."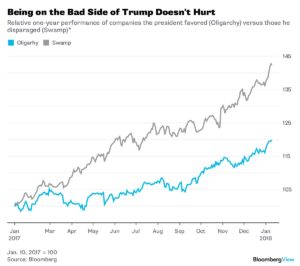 So the famous bi-partisan, lobbyist-driven, Washington Swamp beat the Trump-favored Oligarchy in terms of market performance, at least for the first year. During the past year, the Oligarchy started quickly to morph into what it has always had the potential to be: a Cesspool……….
But still the Oligarchy is not done: it has at least three more years, potentially seven more years. The Swamp will expand and get more odorous for now, become more of a new oligarchy Cesspool. Until the next bubble created by deregulation and natural greed and hubris bursts. Then look out for all the flying "stuff". Then the new need for "government" help and "regulation". Back to 2008 and 2009, and……
Perhaps hopefully a more-lasting New Deal (after all, Milton Friedman is dead, along with his brilliant but misguided mind and his Nobel)……….
And the Beat Goes On…..
Cheers
M Haider Ghuloum