"Alexandria crash: One of the trains was traveling from Cairo,the other was heading from Port Said, et voila!…….."
A train crashed, again, near Alexandria Egypt just this week. Tens were killed, over a hundred wounded. Not the first one, will not be the last one.
A jetliner full of European and other tourists is blown up by terrorists over Sinai after take-off from a resort. Clearly an insider job at the Egyptian airport. All on board die.
Residential buildings collapse in Cairo neighborhood. Tens die, many more wounded. Not the first time, nor the last time.
Terrorism activity has spread from the lawless Sinai Peninsula to Cairo and rural southern Egypt. Coptic Churches, security forces, and soldiers represent popular targets for the Wahhabi Jihadis.
Civilian protesters are called "terrorists" and tried in military courts, illogical but maybe that is why it is has now become a habit among some Arab regimes from Egypt to Bahrain. If you protest or tweet, you are a terrorist.
People, mostly young people of both sexes, vanish without a trace.
And so the beat goes on……
There are discredited rumors that Supreme Leader Generalissimo Al Sisi has offered to commit Hara-Kiri, also known as Seppuku, but nobody dares wield the ceremonial sword and swing it at the neck. Besides, more credible rumors also abound that several princes and potentates from the Persian Gulf are offering him a few more billions of rice (Egyptian for dollar) to remain alive and well and in power.

Besides, the Jihadi terrorists also love for him to stay, although they can't afford to pay him for it. Egypt has never been such fertile ground for terrorism as she is now…..
Even Donald Trump seems enthusiastic for him to stay and keep the military regime in power. They did, after all share a large strange white ball of magic with the king of Saudi Arabia last May.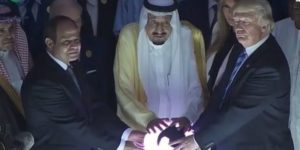 Cheers
Mohammed Haider Ghuloum