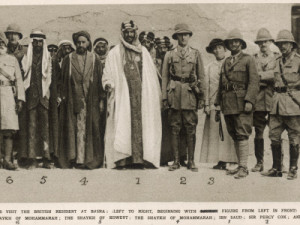 "Revolution: a single complete turn (as of a wheel) <The earth makes one revolution on its axis in 24 hours.> 4 : a sudden, extreme, or complete change (as in manner of living or working) 5 : the overthrow of a ruler or government by violent action." Merriam-Webster

We are living the anniversary of what used to be called the Arab Spring, or Arab Uprisings, or Arab Revolutions. All misnomers.
Now we (most of us) know that there was no Arab Spring. But this is an old story: we all know what happened and why, but I'll go ahead anyway.
From the beginning, the cards were stacked against their success. Local military and bureaucratic forces as well as Persian Gulf Arab oil money conspired from the outset to make them fail. Some of the early revolutionaries in places like Egypt and Syria sold out to Saudi, Qatari, and Emirati money.
The rest failed to heed the simple lessons of history:
When the American colonists rose against the British monarchy in 1776, they overturned all the institutions of the old state and created their own.
When the people of France rose and overthrew the ancien regime in 1789, they had one way to make sure it does not come back. The French revolutionaries managed to talk themselves into overthrowing all the institutions of state, destroyed them and replaced them with new ones.
When the Bolsheviks (Communists) rose against the Tsarist feudal regime in Russia, they made sure of the success of the revolution by replacing all institutions of state.
The same occurred in China in 1949, in Cuba in 1959, and in Iran in 1979.
Fast forward to the so-called Arab Spring. The Arab uprisings of 2011 failed, all of them, because they did not learn the lessons of the earlier revolutions. A revolution cannot succeed by allying itself with the old institutions of the old regime. Or by relying on repressive foreign regimes for support. The Egyptian "revolutionaries" started their uprising by praising the army of Hosni Mubarak and then by allying with it. They ended up supporting a military coup staged by the same army and financed by repressive Persian Gulf tribal ruling families. The Syrian uprising was quickly bought off by the Saudi princes and Qatari potentates, withe the Turks opening their doors for Jihadists from around the globe to get into Syria (and Iraq). Yemen fell apart, as did Syria and Libya and Tunisia. Bahrain was occupied by Saudi army and security forces, with a British military being established now.
The lesson? If you go revolutionary, go revolutionary all the way. Overthrow the old system, and rebuild a new state with new institutions an new people. Never fear to go all the way. Half-baked revolutions always fail, by definition (my definition).
Of course, the results of a revolution may not turn out as its supporters wish, but…………
Cheers
Mohammed Haider Ghuloum