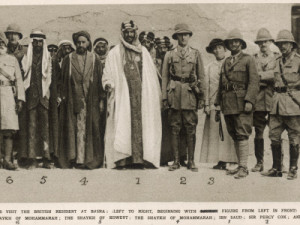 "من حفر حفرة لأخيه وقع فيها :Whoever digs a hole for his brother, he himself shall fall into it" An Arabic saying against treachery, based on a Hadith quote from the Prophet.
" Saudi Arabia, the world's largest oil producer, needs to sell oil at around $106 to balance its budget, according to IMF estimates. The kingdom barely has enough fiscal buffers to survive five years of $50 oil, the IMF said. That's why Saudi Arabia is moving fast to preserve cash. The kingdom not only raised $4 billion by selling bonds earlier this year, but its central bank has yanked up to $70 billion from asset management firms like BlackRock (BLK) over the past six months. After years of huge surpluses, Saudi Arabia's current account deficit is projected to soar to 20% of gross domestic product this year, Capital Economics estimates. Saudi Arabia's war chest of cash is still humungous at nearly $700 billion, but it's shrinking fast…………"
"Argentina evokes images of tango, soccer, gauchos…and an awful economy — one of the world's worst. Its economy is projected to show little or negative growth this year. Argentina is still indebted to American hedge funds, affectionately known as "vultures" in the country. And it remains the poster child of nations that default on their loans. But there's new optimism in Argentina, mainly driven by presidential elections coming later this year……………."
In Argentina, the ruling party could win another term in run-off elections. But the Tango Argentino goes on.
Now to Saudi Arabia, where the princes like to force their Western visitors to mimic the native all-male Ardha dance for the cameras. From George W Bush to Prince Chuck of England they have all pretended t enjoy this dance. Only the Frenchmen, Sarkozy and Hollande, could not bring themselves to pretend that they want anything to do with it.
There is a great Arabic saying from the Hadith that " من حفر حفرة لأخيه وقع فيها   whoever digs a hole for his brother, he himself shall fall into it".
As I have opined recently, the Saudi princes had bought the fantasy that they can "control" crude oil markets. They thought they could engineer limited lower prices for political strategic goals. To punish the mullahs in Iran, Putin in Russia, and the North American shale industry. It worked well beyond their expectations, to the extent that Saudi Arabia faces economic disaster in a few years.  They probably never dreamed that prices will collapse to less than $50 (apparently the Saudis need oil prices to hover around $100/barrel).  Other Gulf GCC states can live with much lower oil prices than $100, but not the Saudis.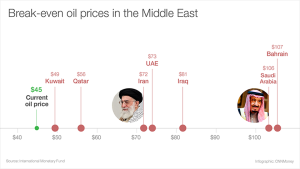 If you look at the IMF chart, you'll notice that the most corrupt most repressive of the Persian Gulf states require a higher price for crude oil to break even. These are the two countries to the right. Of course that could be just a coincidence, some may say "there is no correlation".
However, the princes are fine. They take their cut first, from oil production and from huge military and civilian contracts. They keep on sucking the resources of the country and its people. Whatever reduction in their loot results from reduced oil prices they make up with commissions and kickbacks on even larger weapons contracts with the West.
Hopefully their reckless policies do not doom the economies of the other Gulf states.
Cheers
Mohammed Haider Ghuloum