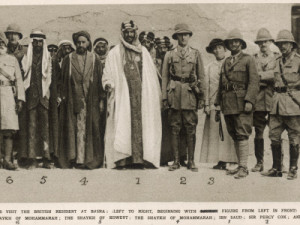 "Al Azhar has republished the book titled Broad Outlines of the Shi'a Religion. The first edition of the book was issued more than 60 years ago. In the introduction Dr. Mohammed Amara stresses that the Shi'as are not a (Muslim) sect but a religion. That the followers of that Shi'a religion allied with the Crusaders and Holagu (the Mongol) and American Imperialism and Zionist Christianity against Muslims……… The book compares Shiism and Communism and how the Shi'as have distorted the unchangeable history……. The book also details the history of the relationship between the Magis (he calls Zoroastrians 'Magis' but some extreme Wahhabis also use it for Shi'as) (Shi'as) and Jews and Communism………….."
It reads almost like the fake Tsarist Okhrana-produced Protocols of the Elders of Zion (it would be Elders of Shi'as here). Many Salafis and their ilk as well as quite a few Arab quasi-liberals seriously believe in it. Most of them, especially some Al Azhar shaikhs, need to read some world history, especially the chronology of events.
Egyptian regime clerics are now much more outspoken about the sectarian divide than most other Sunni or Wahhabi clerics. They are now more extremely sectarian than even the Wahhabi clerics in Saudi Arabia. 'More royal the the king' and his men, as the saying goes. The leadership of Saudi clergy are relatively more soft-spoken than many Egyptian clerics on this issue nowadays. At least publicly.
The Egyptians were supposedly allegedly once among the most tolerant of Muslims, but not anymore. Now many of them are deep into religious quasi-Nazi doctrine. It goes beyond the traditional wild groups like ISIS and Al Nusra and Army of Islamic Conquest and other militia cutthroats of all Muslim sects. Is it any wonder some Iraqis, especially Sunni Kurds, are reported in some Western media to be converting back to Zoroastrianism, to become Magi or Majus?
Years ago we used to joke on the shores of my Gulf that the USA and the Russians (Soviets) were exploring outer space for the sole purpose of leaving this Earth behind, abandoning it for us Muslims. That they just wanted to "get out of Dodge", get away from us and our silliness and stupidity. Oh but it is a worthy cause………
Cheers
Mohammed Haider Ghuloum                          


[email protected]