This looks deceptively like a slow news weekend, outside of Germany and the Gaza killings. But this can be deceptive; there are other bits of news in the Middle East: 
Wars in Syria and Yemen grind on…..
Saudi Crown Prince MBS, officially called New Hunk in Town by female anchor women of his own media, is on the tail-end of his Tour of World Conquest. He wants to accomplish it before the old Iranian Ayatollah Khamenei takes over the world. The prince has been told by expensive lobbyists in Washington that the Hitler analogy is always popular, hence this silly breathless headline in the Atlantic. The Prince has already secured the allegiance of Britain and the USA (including media icons like Norah O'Donnell and the Empress Oprah). He also already owns much of the eastern half of the Arab world outside Iraq, Syria, Lebanon, and Qatar.

The eldest sons of Donald Trump (Eric and Donald Jr), attended the wedding of some Real Estate tycoon in the United Arab Emirates. The wedding of some son of a DAMAC Properties Dubai oligarch.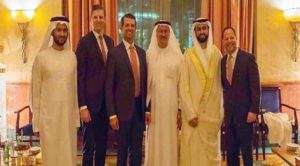 John Bolton (not related to the Red Wedding characters) declined the Dubai wedding because, they say, he's busy planning a couple of new Muslim wars in the Middle East.
Young Barron declined that he had better things to do (he does)……
But the weekend is just starting….
Cheers
Mohammed Haider Ghuloum