The Saudi organizers of the so-called Sunni Arab Islamic American (Sectarian) Summit in Riyadh have come up with a website and a logo, sort of.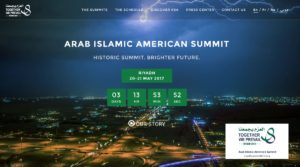 (My browser told me this website is not safe and would not open it. I'll say.)
It says :
Historic Summit, Brighter Future
Together We Prevail
Which is rather cheeky, after what I have opined about this exclusively sectarian provocative summit. It will fail in most of the goals it has been set to achieve, whatever they be, except to milk the Persian Gulf Arabs, mainly the Saudis, for a few hundred billion more dollars for Mr. trump's projects. Expensive weapons, toys that the potentates can't even use properly: I repeat myself, but their failure against poor Yemen is one example. Maybe there will be more spectacular failures in the near future as they talk Donald Trump and the hawks around him into new wars in the Gulf and the wider Middle East.
I would have the thought the organizers, and their highly-paid American and British lobbyists that devised the logo would do a more accurate job. The logo could say, for example:
Wahhabism, Sectarianism, and Republican Corporate Values:
Together We can Exploit the Swamp and Make America Great Again!
It would also help if they distribute stacks of a new Holy Book of the Summit: free copies of "The Art Of The Deal"
I commented on this Sunni-Republican-Royal Summit yesterday in this post here. I will have more comments later….
Cheers
Mohammed Haider Ghuloum