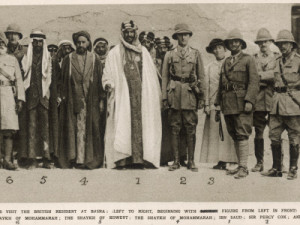 "He added that "this is also happening in Afghanistan," warning that if the Islamic State (IS) was degraded in these countries "Iran will come in to fill the gap," according to MEE's source. Jordan has backed Saudi Arabia in its long-running rivalry with Iran……….. In the congressional meeting, Abdullah said that Shia Muslims had been "lumped in" with the executions carried out that day. To purely kill Sunnis would have "looked bad domestically," he said. He added, however, that it was unfortunate that Nimr had been included among those executed……………"
Jordan, an early child of Sykes-Picot, is in a bind. It is a small country with a divided population and few economic resources, like most other Arab countries. It is sandwiched between large unstable neighbors (Iraq, Syria, Saudi Arabia), as well as Israel/Palestine. Jordanians have had a long history of unfortunate and failed alliances within the Middle East.
It goes back to 1967, when the King of Jordan joined the Six Day War, apparently without being prepared for the consequences. As a result, the Jordanians handed the West Bank and East Jerusalem (including the Al Aqsa Mosque) to Israel with barely a fight, and within two days. The biggest and most important loss of Arab "property" in modern history. That disaster in itself is sufficient to make any nation lose its sense of humor, assuming it had any such sense before.
In 1980, the Jordanians repeated their mistake. They sided with Saddam Hussein when he invaded Iran. They did not fight directly, but King Hussein made occasional visits to the Front and fired some symbolic shots towards the Iranian lines. Not very kingly behavior, but it stopped once Saddam started losing that war. Another defeat ensued eight years later, but by then King Hussein did not get involved directly, a wise decision.
In 1990, the Jordanians sided again with Saddam Hussein when he invaded Kuwait. They lost big in that one economically, although they were not involved directly in a military sense.
Then came the Syrian civil-proxy-Jihadi war after 2011. The Jordanians helped the Syrian Jihadist "opposition" that was sponsored by the Saudis and some other Persian Gulf autocrats. They also at one point reportedly allowed the US and the Saudis to start training some new opposition groups near the Syrian border. But apparently that did not last long, perhaps it petered out.
In Yemen the Jordanians threw their support more directly behind the Saudi paid alliance that has been bombing Yemen's cities and infrastructure for over a year. And blockading the country. A futile and hopeless war. But that is a low-risk venture for them: limited military involvement in a faraway country, with the cost paid by the Gulf princes and potentates.
A long record of betting on the losing side. No wonder the king is often welcome to address the U.S. Congress under Republicans. No wonder Jordanians are among the most humor-challenged in our humorless region. Now the humorless Jordanians have gotten more wary of involvement in foreign adventures of other sisterly and brotherly Arab countries, and wisely so. They especially stay away from disputes that are on their border, lest they spill across into their country (the example of the growing instability in Turkey provides a good lesson).
One good thing about Jordan: they (and Lebanon) do welcome many refugees, which is a good thing and almost a national industry now in Jordan. Unlike the richer Arab countries that have provoked and instigated many of these civil wars but refuse to accept the resulting refugees. In that sense of hospitality, they are more characteristically Arab than most of the rest.
Cheers
Mohammed Haider Ghuloum