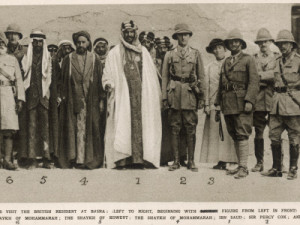 ا
Every Arab country is engaged in some kind of war these days.
In fact every Middle East country, including Iran, Turkey, and Israel are involved in some kind of warfare. Look at the map, and name one country that is not fighting either its neighbors or its own people (civil war)  or somebody else. We can't blame it all on Iran or Israel or the West, can we?
For example ISIS/DAESH is a purely Arab creation, although now it has Chechens, Uzbeks, Bosnians, etc, etc. There are no Iranians or Israelis in North Africa, none that have been caught and blamed.
Saudi Arabia and its allies are fighting directly in Yemen (there are no Israeli or Iranian or Lebanese forces in Yemen). They are fighting indirectly in Syria. There are wars in Iraq, Syria, Lebanon, Sinai, Libya, Tunisia, North Africa, East Africa. You name it, it is involved in some war. Even Jordan is involved in Yemen, Syria, and possibly other places.
I can think of one Arab state that is NOT involved in any war, I think. At least not yet. It is Oman, right at the southern tip of the Persian Gulf. For some odd reason Oman is not involved in any regional war. And it never claims to be threatened by anyone, at least by anyone that is not Arab. Unlike Bahrain, Oman does not claim to discover weekly plots by Iranian agents nor by Hezbollah, nor does it ever feel that its national security is threatened by anyone. At least not by anyone outside the GCC.
In fairness the UAE and Qatar also never seem to uncover any such plots either. Not since the Qataris uncovered a Saudi plot to overthrow their regime in 1998. The same is mostly true for Kuwait, where the most serious current security threat seems to come from Wahhabi Jihadists. Kuwait has recently convicted one network of Iranian espionage agents and plotters, a mix of Iranians and locals. But it has also uncovered several Wahhabi terrorist cells (the country had two lethal bombings of Shi'a mosques by ISIS sympathizers last year). Bahrain of course claims to uncover such plots on an almost weekly basis (grain of salt alert).
Odd, no, about Oman? Can it be that they are wiser than their neighbors? Is it their historic focus on the sea and beyond, away from the rest of the Arab world and its troubles? You figure it out…….
Cheers
Mohammed Haider Ghuloum