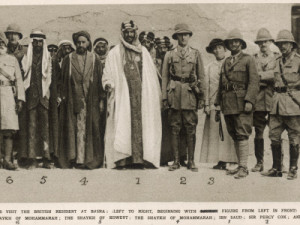 "US President Barack Obama has labeled Iran a "state sponsor of terrorism" and countries in the Gulf region have a right to be concerned about Tehran's activities. The move comes less than three months after Iran was taken off a US terror list……….."
On the eve of his ill-advised Camp David summit with the kings, princes, and potentates of the GCC, Mr. Obama feels the need to placate his guests. Or so he has been told.
Mr. Obama surprised many today by dusting up and reusing the old T-for-Terrorism word about Iran. No doubt that is how he was advised by some advisers steeped in the nuances of Persian Gulf Game Theory. He is trying to placate the Gulf kings, princes, and potentates some of whom are frustrated that they may not get what they feel they are entitled to. They, his guests, are playing the old game, showing more anger than they feel. A bargaining chip, but hopefully he knows that.

Speaking of state-sponsored terrorism: it is time to lay that silly term to rest as a derogatory term. Almost every state sponsors its own favorite groups of terrorists, whether at home or abroad. As the saying goes: almost "everybody does it".
You'd think all the ideology, money, weapons, and volunteers for Al Qaeda, ISIS, DAESH, Nusra Front and others have come from Shi'a Iran. Not from Wahhabi Saudi Arabia, Qatar, and Persian Gulf Salafis. You'd think Iranians planned and financed and executed the attack on the USS Cole and then on the United States on September 11, 2001 (FYI: Saddam was not involved either, in spite of what Dick Cheney says). You'd think it is Iranian warplanes raining death and destruction over impoverished Yemen and its people. You'd think……………
Coincidentally, it may get the Republican warmongers in the Senate (McCain, Graham, et al) off his back for a day or two.

Cheers
Mohammed Haider Ghuloum                          


[email protected]