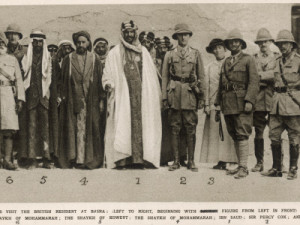 "Wahhab was forced to flee from Medina, and in a more rural inland area – in the Nejd- he was adopted by the Saud family. With a combination of camel riding warrior power and Wahhabi religious zeal, the Saud regime spread across Arabia. In 1802 an army of 12,000 Wahhabi warriors attacked the Shia in the city of Karbala, slaying 4,000 of the city's inhabitants and smashing Shia holy sites. In 1803 they attacked Mecca and, aware of the slaughter in Kabala, the Meccans opened their town to Saud rule. Against images, the Wahhabi warriors smashed opulent graves, and they forbade smoking. After taking power in Medina they smashed grave-sites again, including the tomb of the Prophet Mohammed. In 1813, the Ottoman sultan sent expeditions against Wahhabism. The defeated head of the Saud family was taken in a cage to Istanbul and beheaded………."
Ikhwan is an Arabic word that means "brothers". Ikhwan is now used in Arabic to refer to the Muslim Brotherhood. For many decades, the term Ikhwan when used in Egypt referred exclusively to the Muslim Brotherhood. Outside Egypt also the term was used in recent decades, at least since the 1950s, to refer to the Muslim Brotherhood. The other older original "Ikhwan" are dead. Or are they?
The original 'Ikhwan' were quite different. They did not grow in the cosmopolitan atmosphere of old Cairo. They sprouted in the Arabian desert of what is now called Saudi Arabia. They were the zealous Wahhabi militias allied to King Abdulaziz Ibn Saud. They helped him conquer his homeland of Nejd, then conquer Al-Ahsaa (Eastern Arabia), Hijaz (Mecca and Madinah), and large chunks of northern Yemen. They also made a stab at conquering Kuwait which was under British protection, hence a no-no.
Eventually things fell apart for them. Ibn Saud was getting used to mingling with "civilized" Westerners, like the British who provided him with financial aid for some time. He realized, or was told, that the Wahabi zealots, his Ikhwan, his brothers, were outdated. They had served their purpose in helping him expand his Nejdi emirate to include most of the Arabian Peninsula. It was time to make deals with the British and eventually with the Americans. The Ikhwan's usefulness had ended, and it was time for them to disappear.
Fast forward to the Caliphate in Syria and Iraq. The ideology of ISIS is similar to the Saudi Ikhwan, in spite of such modern trappings as the Omega watch on the fat wrist of the funny chubby Caliph and the Hello-Kitty pink box shown in the media. Like other Salafis and zealous Wahhabis of our time, they are not averse to using modern technology, especially means of transportation and tools of communication. They are still into blowing up and destroying monuments of Islam and other faiths, but they have learned to appreciate the joys of You-Tube and network news.
Cheers
Mohammed Haider Ghuloum